---
---
Support / Training
How to use OTRS
This Wiki page is seen in addition to the Triage, as support moved away from the originally support using just a mailbox to using a ticket system. Some of the terms originally used came thus obsolete. The basics of the front end are explained here OTRS basics
What is visible in OTRS?
All mails sent to support@c.o., paypal@c.o., gpg@c.o. are processed in OTRS. Some of the mails are processed automatically, all the rest is moved to the TRIAGE queue.
Only open tickets are visible in the different queues. Closed ticket can only be accessed if you search for them.
What queues can by used?
If you open the pull-down menu for the queues this list is visible.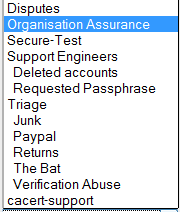 Queue

Purpose

Access

Triage related

Disputes

All requests for a dispute are moved to this queue. If TRIAGE is unsure the request should be move to the SE queue.
Any ticket regarding a running arbitration case (an arbitration number is in the subject similar to a201YMMDD.X) are moved to the SE queue.

Arbitrators

move request to

Organisation assurance

All requests for an organisation assurances come to this queue.

Organisation Assurers

move request to

Secure-Test

This queue is to test the encryption of mails inside OTRS

TRIAGE?, SE

rather not

Support Engineers

all tickets not otherwise classified are moved to here

SE

move tickets to

Deleted accounts

Within the process of account removal there are some mails created that will be moved to here automatically.

SE

no

New Point Calculation

Special queue for ticket related to the new point calculation and missing points from there

SE

no

Pending for action

Tickets which are pending e.g. deleted account procedure waiting for the 3 months before processing the last step of the procedure

SE

no

Requested Passphrase

When a user uses the lost passphrase method to gain access to his account and the questions were not answered correct, an automatic mail is created and sent to support. Once this mail reaches OTRS, it is automatically closed and moved to this queue

SE

no

Triage

All tickets that are not sorted out automatically or by hand will be visible here

TRIAGE, SE

yes

Junk

All junk mails are moved to this queue manually and closed there.

TRIAGE, SE

move ticket to and close it there

Paypal

All mail coming from the paypal account are visible here. All mails with an amount of USD 15,00 are moved to SE as they are part of the password recovery process. All other mails regarding paypal are moved here and closed.

TRIAGE, SE

move ticket to and close it there

Returns

When the CAcert system sent automatically generated mails, e.g. expiring notifications, there might be an automatic reply from the users mailbox. These replies are moved to this queue and closed there.

TRIAGE, SE

move ticket to and close it there

The Bat

mails sent in error by the old mail client "The Bat". The sender will get an automatic error notice, automatically closed

TRIAGE, SE

no

Verification Abuse

Sent by the system if someone clicks on the verification link in an email and then chooses to not verify that address. Are automatically closed

TRIAGE, SE

no

cacert-support

Ticket should be moved here before sending them to the cacert-support mailing. After moving them here they should be sent out and closed.

TRIAGE, SE

yes
Support Engineers Queue
In the SE Queue each SE is requested to categorize the tickets for statistical purpose. Therefore the Free Fields are used.

At the moment the following categories are available for the field "issue type":
| | |
| --- | --- |
| Arbitration Support | any ticket regarding inquiry or execution request from an arbitrator |
| Code Signing | an user requests code signing ability |
| General Questions | any topic that is not yet categorized |
| Name Change with Assurance | |
| Name Change Precedent Case | regarding the precedent case a20110119.1,a20200227.1,a20110213.1,a20110610.1 |
| New Point Calculation | request after the newsletter "Thawte Points" |
| Old Style Password reset | Password reset with payment of 15 $ |
| Organisation assurance | things that deal with Organisation Assurance |
| Password reset with Assurance | |
| Revoke assurance | |
| Signing request | |
| Wiki ACL | |
---