---
---
Your username is ALWAYS your default email address
When you create an account and confirm your email address, that email address becomes your username. However, you can later add other email addresses (this way. You will then see them in the list that you display from the Email Accounts - View menu. (Email accounts are your accounts with your email service providers, not your accounts with CAcert.) For example, the list might look like this: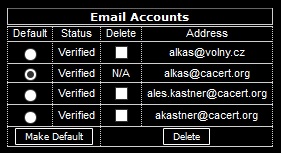 You have the option to select a different email address as the main - default - address by selecting it in the Default column and using the Make default button.
ATTENTION!
Once you select a different address as the default, the new default address becomes your username, so from that point on you must log in with the new name and existing password (or with your client certificate).

If you already have any assurances, AP points, CATS tests, or if you are already an assurer, we do not recommend changing your default email address!
---