Berkeley Open Infrastructure for Network Computing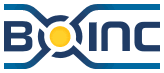 The Berkeley Open Infrastructure for Network Computing (BOINC) is a non-commercial middleware system for volunteer computing, originally developed to support the SETI@home project, but intended to be useful for other applications in areas as diverse as mathematics, medicine, molecular biology, climatology, and astrophysics.
The intent of BOINC is to make it possible for researchers to tap into the enormous processing power of personal computers around the world. BOINC has been developed by a team based at the Space Sciences Laboratory at the University of California, Berkeley led by David Anderson, who also leads SETI@home.
As a "quasi-supercomputing" platform, BOINC has over 435,000 active computers (hosts) worldwide processing on average 557 TFLOPS as of August 6, 2007.[1] BOINC is funded by the National Science Foundation through awards SCI/0221529, SCI/0438443, and SCI/0506411.
The software is free/open source software, released under the GNU Lesser General Public License. It is also used for commercial usages, as there are some private companies that are beginning to use the platform to assist in their own research.[specify] The framework is supported by various operating systems: Windows (XP/2K/2003/NT/98/ME), Unix (GNU/Linux, FreeBSD) and Mac OS X.
[Source: Wikipedia]
Since the Graz University of Technology, Austria started theSHA-1 Collision Search Graz project, a research project that uses Internet-connected computers to do research in cryptanalysis, members of CAcert participate in the BOINC research projects as well.
Projects
Currently the members of CAcert are engaged in the following projects:
Mathematics and Computing
Physics and Astronomy
Biology and Medicine
Climate Modeling
Rendering
Not Categorized
Statistics
The following graphic shows our overall team progress within the different BOINC projects. It is updated once a day, so the actual numbers are a bit higher. It takes some time until all projects we are connected to are included. So stay tuned. For all those listed above, a CAcert team exists!
There is even a more detailed statistic and a ranking of the team members available, but again, it takes some time until all projects we are attached to will show up!
Quite often existing BOINC users look at the team info of the "top teams" of a project. So being one of the Top20 teams means more people will be aware of CAcert and our mission. So being a top team menas spreading the word a bit further. It would be great if we can hold such a position. Help us!
Founding a CAcert team
We will found teams on several projects within the next days. If you want to create a CAcert team inside a project were we do not yet have our own team, please use the following information:
Team name, text version:
CAcert
Team name, HTML version:
- None -
URL of team web page:
www.CAcert.org
Description of team:
It's been a long time coming, but the wait was worthwhile, finally you are able to get security at the right price... Free!
For years we've all been charged high amounts of money to pay for security that doesn't and shouldn't cost the earth.
Just visit our homepage!
Type of team:
Unclassified
Country:
International
Support
So far, we have no dedicated support team for BOINC. If you have any questions, just post them on the mailing lists!
---