---
Acceptable Documents in Australia
Primary Documents
Passport,
Driver Licence
Firearm Licence
Contenders
Security Licence

police, ADF, employee federal & state identity card

air crew / seafarer card
pending examination
Driver Licence Security Features
Information below is collected from multiple documents, no promise of accuracy.
State

Holograms

Watermarks

Photo

Age 1

Age 2

Comments

ACT

6 of CoA

Center: Bluebell watermark (large blue flower); under words Date of Birth: Bluebell watermark (small light flower); top of card: fine, light rmp in 3 lines: AUSTRALIAN CAPITAL TERRITORY

left bottom, vertical, running upwards, Unique licence number

Green L 15.9

Red P 17

info Licence Type Information Sheet

NSW

f&b: repeating CoA; outline of NSW; New South Wales microprinting forward & reverse

f&b UV: CoA

unique card number (top) Name (bottom) with New South Wales rmp

Green L 16

Red P 17

NT

Silhouette of Australia with NT highlighted

4 corners: CoA; left of center: large Sturt's Desert Rose (large pink+purple flower)

Ochre L 16 P 16.6

Gray lock 16.6

Martin's blog

Q

(none)

CoA gold repeated down right side

top DIRECTOR-GENERAL and DEPARTMENT OF TRANSPORT; right side vertical: security number

no class/age colour coding in old licence

QLD issues old laminate form enclosed in plastic; Nota bene: smartcard licence shown below is not in service yet, due from end-2010;

SA

Piping Shrike (bird) repeating; DOE small circle bottom left

criss-cross wavy lines with Piping Shrike, repeating

includes holograms

yellow L 16

Red P 16.9

Tas

repeating CoA

center: bluegum (flower); wavy Tasmania Australia faint rmp diagonal

Green L 16

Red P 17

Vic

Inverted triangle with 5 stars, repeated

swirled lines; left-center Common Heath (flower)

Green L 16

Yellow L 16

(Probationary Red is 18)

WA

repeating CoA

repeating kangaroos; single UV kangaroo top right?

also Magenta 17 "heavy"

P 17

note that Learners is not a photo-ID in WA;
Source:
Nota bene: pictures above are not checked, only ACT image came from government source.
CoA == Coat of Arms of that State.
colours typically indicate the classes with a coloured band across top:

Red is typically (P) Probation/provisonal
Green or Yellow is typically (L) Learners.

f&b == front & back

DOE == Diffractive Optical Element
rmp == repeated microprinting
Secondary Documents
Birth Certificate (Name + DoB)
Medicare Card (Name)
Health Care Card (?)
Centerlink / DVA
Tertiary Education Card
Change of Name certificate
Unacceptable Documents
Library Card
Private Health Care Card
Document Statistics
Australian government has formed an Identity working group for government agencies called National Identity Security Strategy or NISS. Following pix extracted from ANAO Performance Audit Report over NISS (ANAO No.29 2009-10, pages 25, 26). These are indicative of the situation in Australia, and do not imply either CAcert or government endorsement for any purpose.
The overall situation in Australia can be seen as this: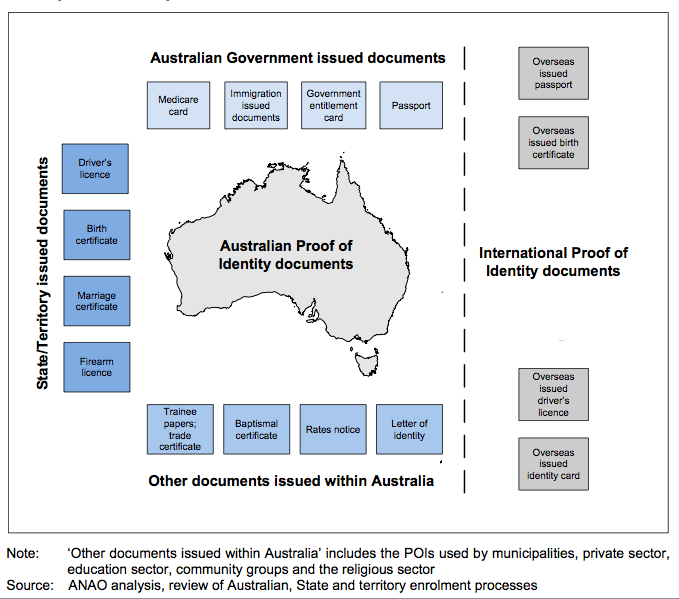 In popular business usage, these are the most available documents: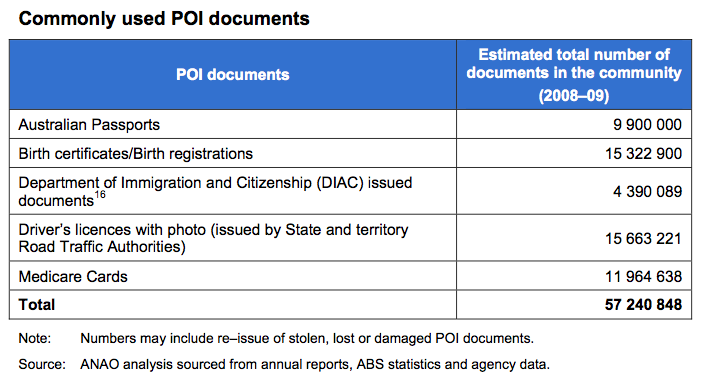 To put the above in context, Australia's estimated resident population was 22 million, end-June-09 (ABS estimate).
---