---
---
The Concept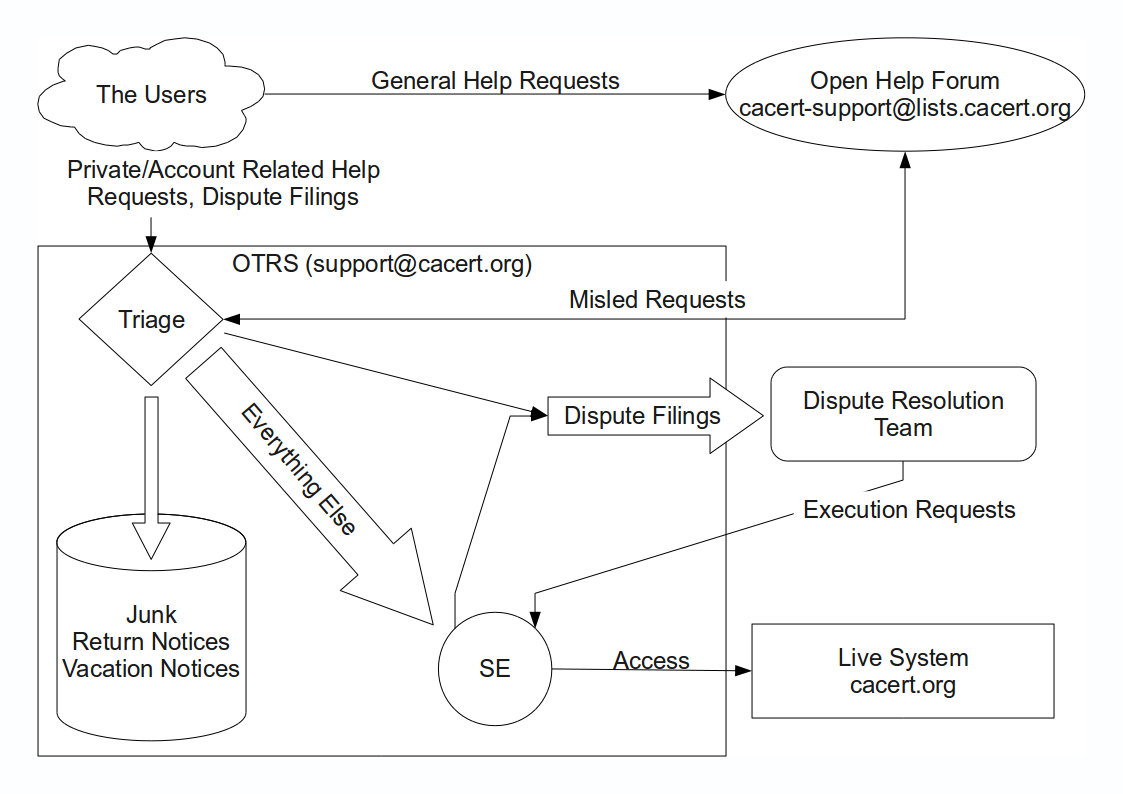 The Team
Help Team
These are Assurers who deal with the "help" issues where explanation is needed but no special access. Any Assurer can join the emailing list and help out. People should be encouraged to do that, for a while.
This team is joined by simply signing into the cacert-support mailing list. See more information at Open Help Forum.
Triage
The Triage Team are the first-responders of the Support team. They read the incoming support mail, and forward it to channels. Fast.
Who:
Juergen
alkas
more needed
Support Engineers
Support Engineers are the heavy cavalry of Support. They are ABC'd under Security Policy. They have access to the core functions of the online system, and can therefore see and breach privacy. They should do this under instructions from the individual concerned or Arbitration.
Who:
Liason
Important contacts are:
Case Managers to deal with arbitration issues
System administrators to get special things done
Others

Treasurer@ for paypal issues.
Team Leader
Joost Steijlen is team leader. See notes at Team Leader's Notes.
Meetings
We do meetings every or every second month.
Tech / systems
We have more or less transitioned to OTRS at issue.cacert.org. More info on this is found at:
We need some pages here describing the way in to it.
Historically, we used maillists and IMAP boxes. Transition was over new year 2010.
History of members
Support Engineer
Name

since

motion

resigned

motion

Guillaume

2009-11-15

Alejandro

2009-11-15

2009-11-11

2016-04-9

Nicholas Bebout

2009-11-11

??

??

casa

2009-12-24

2009-12-24

Martin Schulze

2009-12-24

2010-03-09

Joost Steijlen

2010-03-09

Faramir

2009-11-11
2010-04-08

??

??

2010-06-25

2014-03-23

https://lists.cacert.org/wws/arc/cacert/2014-03/msg00024.html

INOPIAE

2011-02-13

2016-04-9

2012-06-24

2016-04-16
Team Leader
| | | | | |
| --- | --- | --- | --- | --- |
| Name | since | motion | resigned | motion |
| ?? | | | | |
| Guillaume Romagny | | | 2009-11-15 | |
| Ian Grigg | 2009-11-16 | | 2010-02-22 | |
| Michael Tänzer | 2010-02-22 | | 2011-11-20 | |
| Joost Steijlen | 2011-11-20 | | | |
---