Arbitration / Training
The Training Course for Case Managers and Arbitrators
Lesson 3 - Workflow of Dispute / Arbitration Emails
Support

Arbitration Team

Triage

Support Engineers (SE)

Case Managers

Arbitrators

<support AT cacert DOT org>

<cacert-se AT lists DOT cacert DOT org>

<cacert DASH disputes AT lists DOT cacert DOT org>

<cacert DASH arbitration AT lists DOT cacert DOT org>

<cacert DASH arbitration AT lists DOT cacert DOT org>

dispute

dispute

dispute to arbitration

arbitration

forward

forward

pickup (to wiki)

discussion

notify to cacert-arbitration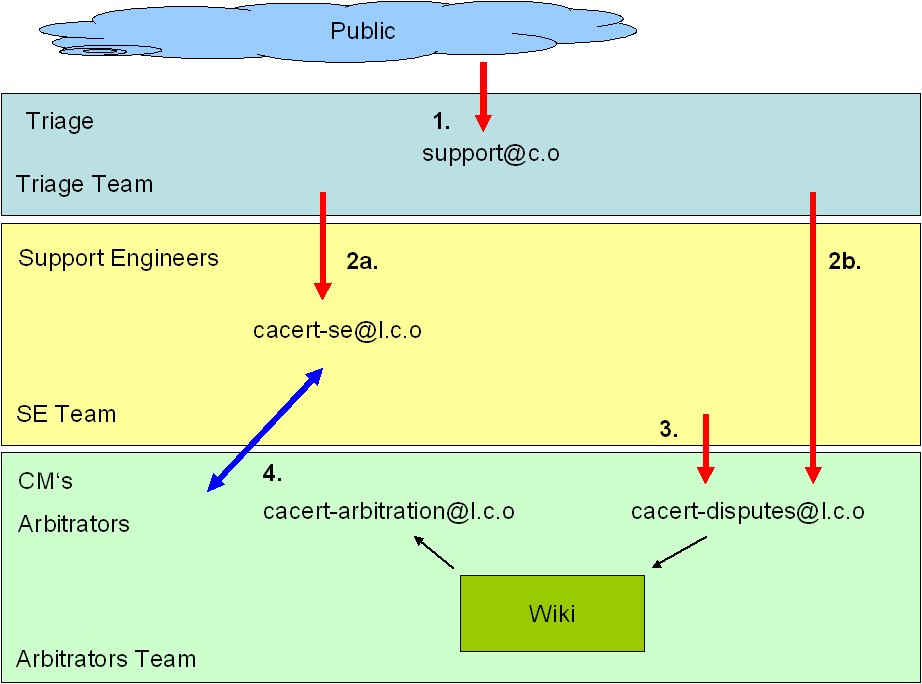 1. Users sends their disputes to <support AT cacert DOT org> with 'Dispute' in the subject

2a. Triage forwards mails to <cacert-se AT lists DOT cacert DOT org> and

3. Support Engineers forwards these mails identified as disputes to <cacert-disputes AT lists DOT cacert DOT org>

2b. or Triage forwards mails directly to <cacert-disputes AT lists DOT cacert DOT org>

3a. Case Manager pick ups new disputes from <cacert-disputes AT lists DOT cacert DOT org> and checks if addtl. mails exists in <cacert-disputes AT lists DOT cacert DOT org> regarding this case or if another CaseManager already picked up this case and started a notification in <cacert-arbitration AT lists DOT cacert DOT org>. The Case Manager checks also the Pending Arbitration Cases if a similar case exists (for merging this case). Otherwise the Case Manager pick ups the case and create a new case at the Wiki page Pending Arbitration Cases. Fills out the new Wiki page and send a notification in <cacert-arbitration AT lists DOT cacert DOT org> about creating a new case and now searching for (a Case Manager and) an Arbitrator.

4. Subsequent mailings now include "Arbitration case a200YMMDD.# ..." in the subject line
Questions
What is the difference between Dispute Emails and Arbitration Emails ?
To which Email address have users to address their Disputes ?
From where have Case Managers to pickup new disputes ?
Review
BernhardFröhlich: I was quite irritated by the table and the graphics, but the text below ist (IMHO) crystal clear. I'll try to build an alternative diagramm...
---